Meet Dr James O'Malley, Low Fell Chiropractor
My goal is to provide long-term relief, naturally.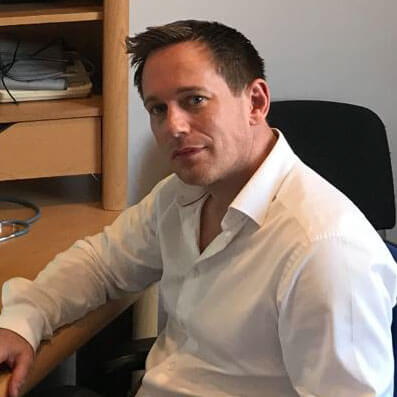 Even at a young age, Dr James O'Malley (Chiropractor) couldn't understand the reasoning behind taking medications for pain relief as doing so didn't address the underlying condition. "While emergency medication is necessary I don't believe that taking prescription drugs on a long-term basis is the way to go. Doing so naturally suppresses your body's response to pain which doesn't make sense to me."
Experiencing the Benefits of Chiropractic
At 13, after a fall on the stairs led to a severe low back injury, Dr James O'Malley (Chiropractor) saw a chiropractor. The back pain had affected Chiropractor Dr James O'Malley's quality of life for an entire year until he received his first chiropractic adjustment.
"The chiropractor explained the fall had resulted in my sacroiliac joint becoming restricted. A short right leg resulted, which irritated the sciatic nerve and caused referred leg pain. After a course of care, I was pain-free and back to participating in my regular activities."
The positive experience Dr James O'Malley (Chiropractor) had prompted him to see his chiropractor for routine maintenance care. "I eventually pursued chiropractic as my chosen career path."
Attending Chiropractic College on a Rugby Scholarship
Much to Chiropractor Dr James O'Malley's delight, he found out that Palmer College of Chiropractic in Davenport, Iowa, USA, the oldest and most prestigious chiropractic university in the world, offered rugby scholarships. "For my brother and I, who were both playing rugby for the Newcastle Falcons, it was an easy decision."
Both brothers successfully passed all four parts of the American board exams to receive their Doctor of Chiropractic. They also passed the Physiotherapy board exam and then the UK General Chiropractic Council's Test of Competence exam.
EXPLORE CHIROPRACTIC
Taking the Time to Listen
Perhaps you've been to other healthcare practitioners who didn't listen to your concerns; that is never the case at Life Chiropractic. "My brother and I pride ourselves on being good listeners that you can trust." Dr James O'Malley and Dr Jonathan O'Malley (Chiropractors) assist patients by determining the cause of the problem versus simply treating symptoms.
If you are interested in learning more about chiropractic and how it may benefit you, contact us today to book an appointment with Chiropractor Dr James O'Malley!

Chiropractor Low Fell | 0191 491 1006