Chiropractic Care
The Philosophy of Chiropractic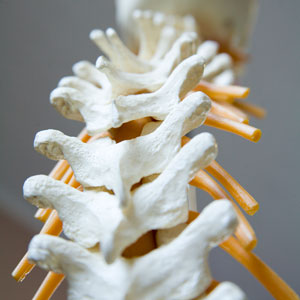 Chiropractic philosophy works on the premise that pain is good in that it lets you know that there is something wrong. Ignoring pain can result in long-term damage to your body and overall health.
Keeping Your Body's Command Center Healthy
Consider your brain to be your body's command center. The brain and spinal cord communicate with every part of your body through nerves that leave the spine. These nerves are responsible for transmitting the messages of healing, regulation, programmed cell destruction of bad cells and hormone regulation — basically, every function and process that takes place in our body. These messages are sent from our brain down our cord and out through nerves from the spine.
Chiropractic is incredibly simple yet remarkably effective. Our chiropractors make sure the bones of the skull, spine, pelvis and extremities are not compromising these nerves so the body can be pain-free and healthy.
Our Techniques
A variety of techniques is used in our Low Fell practice to get patients optimal results. These include:
Flexion- Distraction
Palmer Package
Sacro Occipital Technique (paired with home ergonomic advice)
The Benefits of Chiropractic Care
When under chiropractic care, you may experience the following benefits:
Increased movement
Decreased pain
Improved flexibility
Enhanced overall wellbeing
The New Patient Journey
Initially, we would see you twice a week for a few weeks depending on how sore you are and how your quality of life and ability to perform daily activities have been affected. Then, the frequency would drop down and the time between appointments would lengthen. We also would integrate some postural and flexibility exercises into your care plan. Once you're feeling better and are happy with your results, we would encourage you to integrate some kind of maintenance or wellness care as part of your healthcare regimen.
EXPLORE THE JOURNEY
If you'd like to find out more about chiropractic care, we invite you to contact Life Chiropractic today to book an appointment!

Chiropractic Care Low Fell | 0191 491 1006